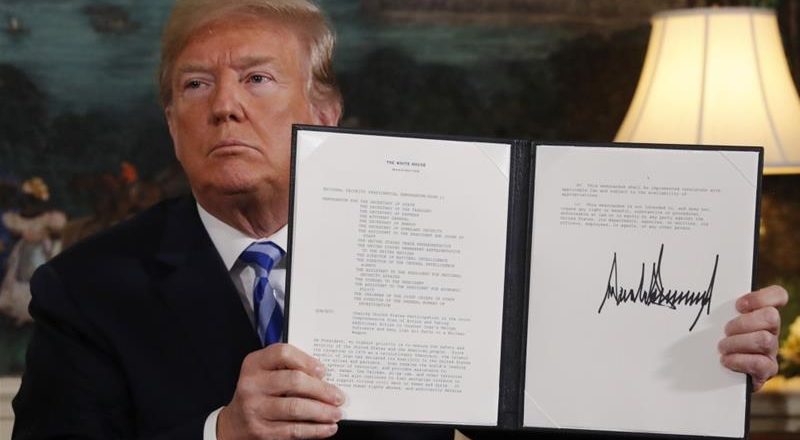 In an oral press statement, HR/VP Federica Mogherini, on behalf of the European Union, has expressed her regrets regarding Donald Trump's decision to renew sanctions on Iran and to withdraw from the Iran nuclear deal, which he considers to be a "very badly negotiated" and "one sided-agreement" in favour of Iran. Mogherini reiterated that this agreement is a key element of the global non-proliferation architecture, and recalled that it is the result of 12 years-work of diplomacy: "it belongs to the entire International Community, it has been working and it is delivering on its goal. The European Union is determined to preserve it" she said. She also called on the rest of the international community to do the same for the sake of the collective security.
Mogherini stressed that Iran has implemented its nuclear related commitments, referring to the 10 independent reports published by the International Atomic Energy Agency work. She also stressed that lifting of sanctions has had a positive impact not only on trade and economic relation with Iran, but for Iranian population, and that the EU is going to ensure that this is continuing to be the case. As a final sentence highly critical over Trump's discourse, Mogherini claimed that "respect is a universal Language", while she added, referring directly to her interlocutors in Iran: "do not let anyone dismantle this agreement, it is one of the biggest achievements diplomacy has ever delivered, and we have built this together. It is the demonstration that win-win solutions are possible through dialogue, engagement and perseverance."
France, Germany, and the United Kingdom have also taken a stand against Trump's decision. Macron wrote on Twitter: "France, Germany and the UK regret the US decision to leave the JCPOA". German Foreign Minister, Heiko Maas, said Germany could not find a legitimate reason for pulling out of the deal. On Twitter, UK Foreign Minister Boris Johnson added: "UK remains strongly committed to the JCPoA, and will work with E3 partners and the other parties to the deal to maintain it".
As a response, Iranian President Hassan Rouhani said Iran will negotiate with the other signatories of the deal, calling the US move "unacceptable". Netanyahu expressed his support to Trump's decision: "thanks President Trump for this courageous decision". Along the same line, Saudi Foreign Ministry said "the kingdom supports and welcomes the steps announced by the US". On the other hand, Turkey called Trump's decision "an unfortunate step", adding that the deal was an important step to prevent nuclear proliferation. In a statement posted on its Foreign Ministry's website, Turkey stated that the "The Joint Comprehensive Plan of Action must be protected and continue to be implemented in full transparency, uninterrupted and complete".
- The Euromed news are edited by the team of the Euro-Mediterranean Policies Department of the European Institute of the Mediterranean -