Presentation
Policy Debate: Great Expectations: Defining a Trans-Mediterranean Cybersecurity Agenda
Online Event
This event aims to foster evidenced-based policymaking by presenting the main findings and recommendations of the EuroMeSCo Policy Study on Great Expectations: Defining a Trans-Mediterranean Cybersecurity Agenda to an audience of EU officials and key policy stakeholders.
This Policy Study is the result of a joint research effort carried out by a multidisciplinary and international group of experts from all over the Euro-Mediterranean region. This Joint Study Group has been coordinated by Patrik Pawlak (Brussels Executive Officer, EU Institute for Security Studies (EUISS)), with contributions by and composed of Adel Abdel-Sadek (ACPSS), Samuele Dominioni (ISPI) and Alexandra Laban (Sofreco).
The Policy Debates are small-sized closed-door meetings held under Chatham House rules.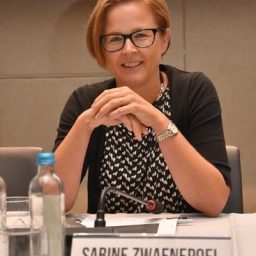 Sabine Zwaenepoel
Senior Expert and Team Leader of the Centre of Thematic Expertise on Crisis Reaction and Security Sector Reform
DG NEAR B2
PRESENTATION OF THE FINDINGS AND POLICY RECOMMENDATIONS OF THE POLICY STUDY
DEBATE
After the initial intervention by the speakers, the floor will be opened to participants in order to debate on the main issues tackled during the presentation.